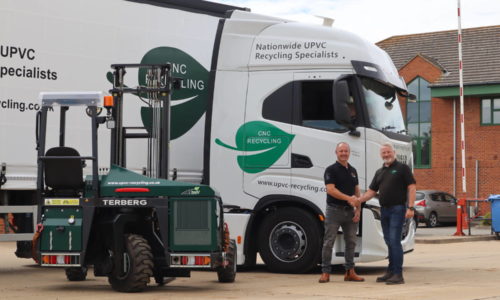 CNC Recycling
Overview
CNC Recycling add 2 custom painted Terberg Kinglifter truck-mounted forklifts to go with their new Terberg Kinglifter & CNC Recycling dual-branded trailer curtains.
Scope of Work
Superior capability, choice and efficiency over other TMS suppliers on the market  
CNC Recycling Ltd are an award winning (NFA21 & NFA22) nationwide UPVC recycling specialist that are committed to offering sustainable alternatives to landfill for old windows and doors, successfully collecting thousands of tonnes of recyclable waste across the UK every year.  
To meet their customers high expectations for quality and reliability, they rely on a utilising the most efficient and hardworking equipment on the market to ensure that they can deliver optimum value at all times.  
When looking for additional truck mounted forklifts to augment their fleet, Terberg Kinglifter's had proven themselves over 2 years of use to offer far more robust versatility and reliability than other leading truck mounted forklift brands on the market. This is because Kinglifter's suffer very little downtime, are easy to use and are modular built to meet any specification needed. CNC particularly valued being able order bespoke colourways and livery to match their branding when investing in a renewed fleet. 
Bennie Equipment, as the official UK distributor for Terberg Kinglifter, supplied 2 new TKL models for CNC's fleet. These came fitted with integrated hydraulic fork positioners, reverse activated working lights and beacon, and a spacious design equipped with a hydrostatic drive pedal control for precise operation. In addition, foam filled tyres were supplied on both models to reduce puncture risk on extreme applications, which was very important for the environment in which CNC operates. 
Bennie Equipment's relationship with CNC continues to go from strength to strength. Not only do they highly value the high level of service that is supplied to them, CNC also have on contract hire 2 trailer and Kinglifter package combinations that share joint branding between CNC and Terberg Kinglifter!  
It is this trust in the brand that has led CNC to highly recommend the Kinglifter product to the logistics and haulage industries wherever they can, noting that they are machines that certainly stands up to the test! 
You don't need to take our word for this alone though, the video below demonstrates exactly how Kinglifter's impact CNC's business, and why Kathy, an exceptional female HGV driver at CNC loves Kinglifters for their ease of operation and ability to self-offload efficiently.